Aquaculture
Bord Iascaigh Mara (BIM's) mission is to support and enable an increase in value creation of a sustainable Irish seafood sector across the supply chain, from catch to consumer. One of the most important sectors is Irish farmed salmon which is certified as organic by BIM (CQA). At retail level salmon accounts for nearly 50% of all sales.
The salmon industry has grown from these humble beginnings. Irish salmon farming conditions are unique. In fact, over 95% of all salmon farmed in Ireland are certified organic. Organically grown salmon are only fed a diet of sustainable organic feed. They are also raised in more spacious pens than traditional farmed salmon. Therefore, Irish organic salmon is considered a premium product and is sought after by discerning smokehouses and consumers worldwide.
Farming salmon is a lengthy process. The salmon eggs are hatched inland in freshwater. Approximately a year and a half after their initial hatching, the tiny fish are transferred to large sea pens, where they spend an average of 18 months and swim the equivalent of 13,000 km before reaching market size.
Oil-rich fish are an important source of omega 3 fats, which are shown to help protect the body from heart disease, improve mental skills and may play a role in helping prevent other diseases such as Alzheimer's and some types of cancers.
 Today, salmon is smoked primarily to give it an appetizing flavour and texture. The salmon can then be smoked using both cold and hot smoking techniques, each giving very different flavours. Each smokehouse will have its own techniques and recipes, many passed down from generation to generation.
CONTACT US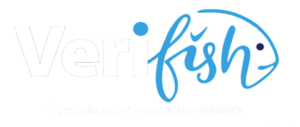 Providence House,
Unit H1,
South Link Business Park,
T12CK77, Ireland
10, Dorrance Street,
Suite 700,
Providence, Rhode Island,
02903, USA
IE: +353 21 245 5670
US: +1 401 6484 852

IE Mobile: +353 87 2591376
Email: info@veri.fish
Aldi Ireland becomes the first retailer to complete trial with Bord Iascaigh Mhara's new fresh fish traceability system Aldi is the first retailer in Ireland to test blockchain technology successfully to validate its corporate buying policy for organic and sustainably...
A recent report on the performance of FIP's globally has some interesting results for our FIPs https://oursharedseas.com/fipreview/ A recent report on the performance of FIPs globally has some interesting results for our FIPs (https://oursharedseas.com/fipreview/)...
RESEARCH & DEVELOPMENT
---
European Space Agency (ESA) and AquaEye: Marine Applications Ltd has just completed our latest project with ESA AquaEye. The project involves the installation of sensors on participating certified aquaculture production units which transmit data in relation to water quality through satellite and GPRS technology to a cloud-based software platform Users are then able to access the appropriate data based through a user friendly GUI.